Morton Charlton Archive Project
Morton Charlton started working at Pattinsons Chemist in Hexham after serving in the Second World War. He developed an interest in photography and during his lifetime made copies of photos and postcards from the late Victorian and early 1900s. The full collection can be viewed on the Northumberland Archive and is also published in a book 'Old Hexham'
The aim of the project is to produce 'now' images of some of the Charlton photos. Trying to find the correct place to stand and using the correct focal length is the challenge! The inclusion of people, cars, shopkeepers, etc can help to date the images for future generations viewing a 2023 street view of Hexham. Although there are others that could be used, we have selected 35 images from the archive for members to copy. Unfortunately, some views are no longer possible due to obstructions from modern buildings and trees. The Charlton images and a 'now' record shot can be viewed below.
Once members have confirmed their interest in the project, they will be put into one of four groups which will be allocated 8 or 9 images to reproduce. The images should be submitted to this year's internal PDI to judge the most popular images taken at each location. In the future we may have access to higher resolution digital Charlton images to allow printing of 'now' and 'then' diptychs, which could be displayed at an exhibition. In the interim please use those available online.
Hexham Heritage Action Zone Project
Hexham & District Photographic Society has been commissioned by Northumberland County Council to photograph listed historical assets in Hexham Town Centre. To this end we have produced a descriptive listing of the buildings and a location map. Further information on or clarification of each of the locations can be obtained online by typing in the NHLE Number (a unique number for each asset and documented in the listing) in the search box at the following website (https://britishlistedbuildings.co.uk/england/hexham-northumberland). Our target is to have photographed the assets in whatever state they are currently in by the end of December 2023.
Hexham Map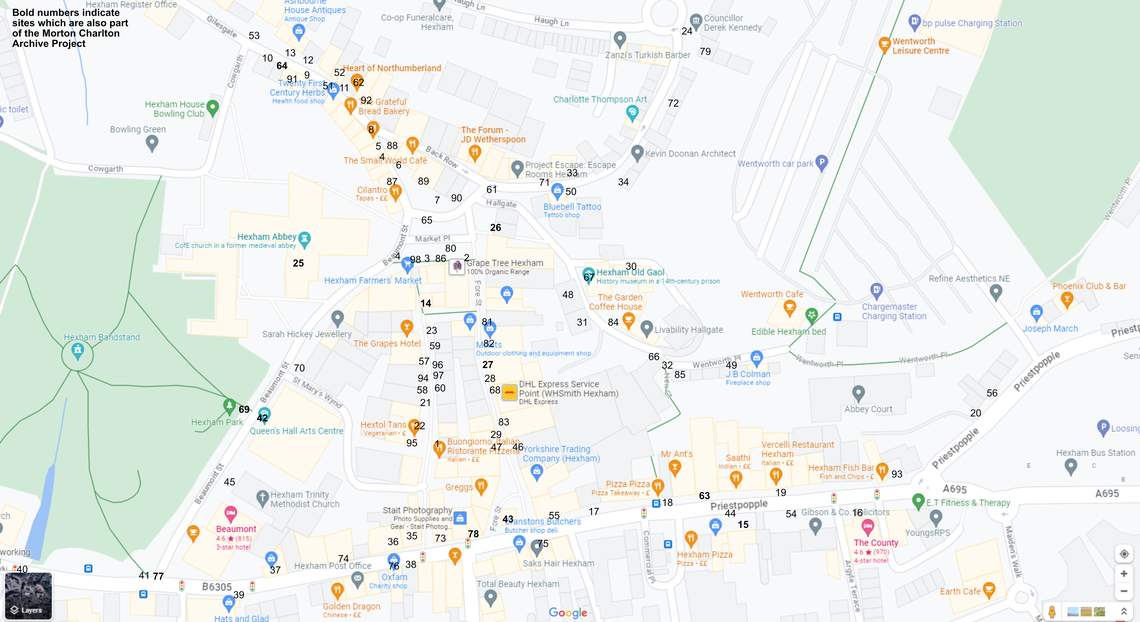 NCC_Heritage_Listing.pdf
Once members have confirmed their interest in this project we will allocate areas of Hexham for each of the groups mentioned above to tackle so again we don't get too much duplication. Members should be creative in their compositions to capture the assets in their 2023 context. Images in standard Society PDI resolution should be submitted to Dave Best or Duncan Burridge for collation and selection prior to the soft December 31st deadline.